Just got a pair of Dahon Speed D7s for myself and the gf on Saturday.
I have been wanting to get a folding bike since I first read about it on Mr. Brown's
blog
a few years ago. At the time, I was still studying in Malaysia, and buying a bike did not seem to be a good idea (for safety reasons). So I did not really have a serious thought of buying one.
Having since moved to Singapore and started working here, I again entertained the idea of buying a folding bike. However, it was only recently that I began browsing and reading cycling and bike related blogs, forums and Facebook pages.
I narrowed down my choices to these 3 models: Dahon Speed D7, Dahon Mu P8 and a Brompton M6R (Least expensive to Bloody Expensive).
Dahon Speed D7 (image credit: jenofusa.com)
Dahon Mu P8 (image credit: foldingbikes.co.uk)
Brompton (image credit: accent bicycles)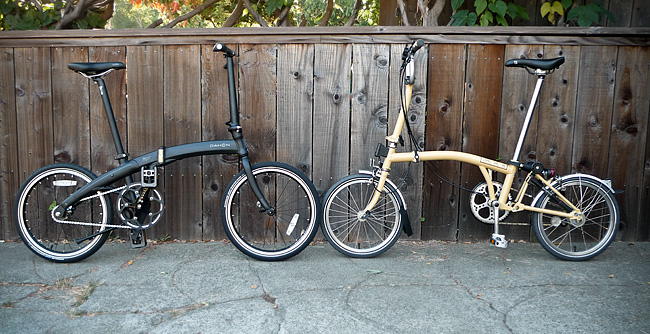 Comparison of Dahon vs Brompton, unfolded. (image credit: thefridaycyclotouriste)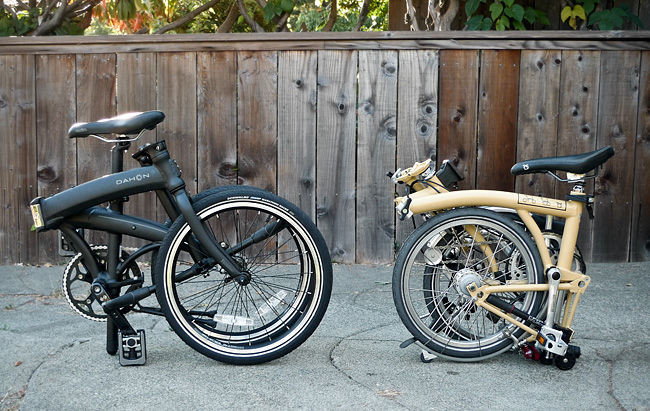 Comparison of Dahon vs Brompton, folded.
Notice how in their folded states, the Brompton is more compactly folded. To be fair, the Brompton's wheel is 16" while the Dahon is 20".
I really fell in love with the Brompton for its classic look, the compact fold and that ingenious idea of being able to roll it when folded!!! However, the Brompton costs 4 times as much as the Speed D7.
So I decided I really wanted the Brompton, but for the time being I would get the Speed D7 first so that I could start cycling. Then I would save up for the Brompton!
I hope to blog about my cycling adventures and share photos from my rides regularly, if time permits.
For starter, here's a photo of my Speed D7 (fitted with Brookes saddle) taken today during my ride to Bedok Reservoir Park.